Open-E Partner Program
What is Open-E Partner Program?
---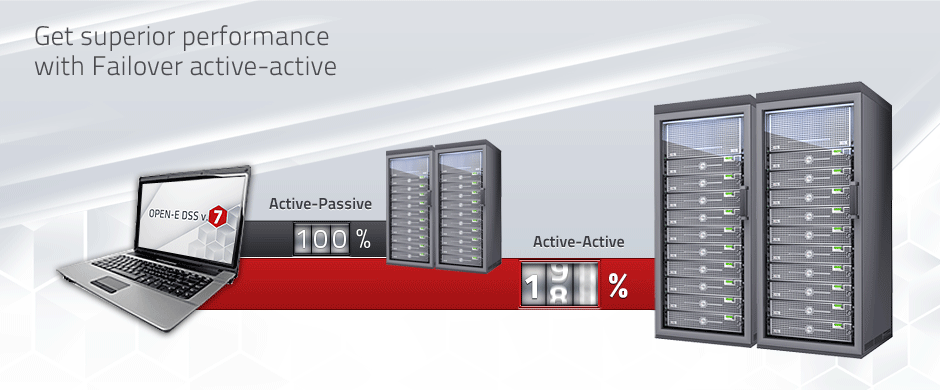 Open-E is a software company that cooperates with a large number of leading storage solution providers. Despite of the large network formed by our Partners we make every effort to treat each of them on an individual basis - according to their needs. Our authorization is also a guarantee of compatibility, quality and trust that we confide in our partners. Our logo endorses industry-leading hardware manufacturers. This is why we are confident that every implementation based on our software will be successful.
Why should you join?
---
Joining our Partner Program allows you benefit from better margins, use Open-E's marketing resources, participate in Open-E's Certified Engineer Trainings (OECE) and Certifications, attend our Storage Server Certification Program and much more.
Register now! More about benefits »
Who can join?
---
Our program is designed for all types of service providers in the IT sector. You will join a vast network of industry experts and practitioners.
System Builder
Partners building their own storage systems from individual components and selling them with Open-E software.
Internet Service Provider / Data Center
Internet service providers, hosting providers, service providers using storage powered by Open-E.
Reseller
Partners who re-sell the full range of Open-E software and services.
Online Shop
Online retailers selling goods / services over the internet via eCommerce.
MSP / System House
Partners who add value by providing complete IT solutions to their customers, including design, plan and deployment of sophisticated storage networking and virtualization solutions.
Distributor
Wholesalers re-selling Open-E products to Resellers, System Builders and other channel companies (not to end users).
Technology Partner
Hardware or software manufacturers providing solutions compatible with Open-E software.
OEM
Companies selling Open-E products as a part of their solutions under their own brand name.
Certification levels
---
Open-E offers four different levels of partnership. Every partner starts with a basic Partnership Certification. With the growth of our co-operation, Open-E offers Silver and Gold Partnership Certifications, each with an increased amount of benefits and requirements.
Gold Partnership Certification
This is a prestigious level of partnership designed for experienced business Partners whose primary focus is the data storage market. This proves a long-term commitment to our mutual success and customer satisfaction by promoting and selling Open-E technology. Gold Partners have access to our whole range of business benefits derived from highly-skilled specializations in our software products.
Silver Partnership Certification
This high-level partnership is dedicated to rapidly growing partners focused on achieving success by offering Open-E technology. Partners at this level are interested in getting more profits from a long term relationship with Open-E and want to help us build our storage market position.
Partnership Certification
This level is the introduction to a stronger business relationship with Open-E. Authorized Partners get familiarized with market opportunities for continuously increasing sales of Open-E products. They are interested in the inherent advantages of our knowledge resources and want to promote Open-E's storage solutions.
Note
Certification levels are assigned separately for each unique partner activity you report. For each of those activities there are different criteria based on your performance and geographic region.
Open-E Technology Partners
---
We work closely with leading technology hardware and software vendors to ensure interoperability with our software. Our alliances include technology industry leaders such as Intel, AMD, VMware, Symantec, Adaptec, LSI, Supermicro and many others.
More about Technology Partners »
Hardware Certified Engineer
---
The certification for OECE verifies the ability to work efficiently with Open-E DSS V6 and V7, especially Backups, Replications, Snapshots and Failover. Engineers with OECE certificate can easily implement the Open-E DSS V7 in an IT-environment and have comprehensive knowledge and experience of the software.
More about Open-E Certified Engineer »
Hardware Certification Program
---
Open-E partners are certifying and testing their systems in our laboratories. All hardware is classified into one of the following categories:
Open-E High Availability Certified Storage Servers
Open-E Certified Storage Servers
Open-E Tested Storage Servers
More about Hardware Certification Program »