Check out our new solutions page
Open-E JovianDSS working with Intel® Optane™
-
Recently, we have launched a new solutions page outlining the benefits of using Intel® Optane™ SSDs with Open-E JovianDSS that is a ZFS- and Linux based Data Storage Software designed especially for enterprise-sized Software Defined Storage environments. With its unique features, the product ensures highest data reliability and integrity with efficient data storage, protection and recovery.. Now, when using Intel® Optane™ SSDs, you are able to get the most out of Open-E JovianDSS. Read on!
-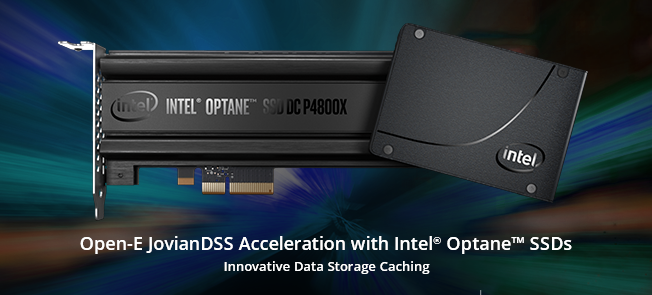 -
Discover the benefits
Learn how to utilize Intel® Optane™ SSDs
-
The solutions page present several advantages of Intel® Optane™ SSDs compared to traditional NAND SSDs, such as:
Very high and stable write IOPS

Low and stable latency

High quality of service (QoS)

And more!
Click the button below to discover more!
-

-