Open-E JovianDSS Functionalities
Deduplicate or Not To Deduplicate?
One of the most basic features in the ZFS-based Open-E JovianDSS is deduplication. This feature allows us to get rid of the data that are duplicated and thus save space. Easy as it seems. However, there are certain arguments that should be taken into consideration before you decide to utilize deduplication in your data storage environment. Why? Well, to avoid unnecessary data loss.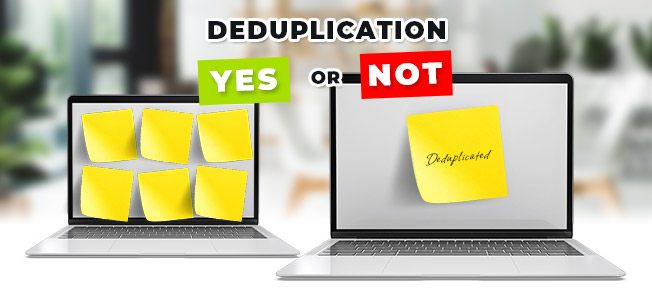 Deduplicate Only the Duplicable Data
Save Storage Space and Boost the Performance
Deduplication can significantly boost your data storage system's performance and save some storage space, that's obvious. But no matter how simple it may sound, an in-depth analysis of the stored and potentially deduplicated data must be undertaken in order to avoid data loss.
On the other hand, it's reasonable to enable deduplication if the data is not duplicated as in such a scenario, it can cause significant improvements.
Read the newest article on the Open-E Blog to learn all the pros and cons of deduplication. Tips included!