Registration is Now Open!
How to Get Away With Ransomware
The statistics of 2021 regarding ransomware have illustrated the lack of security in various data systems of businesses all around the world. That being said, we would like to share our knowledge with you in order to minimize the number of successful attacks!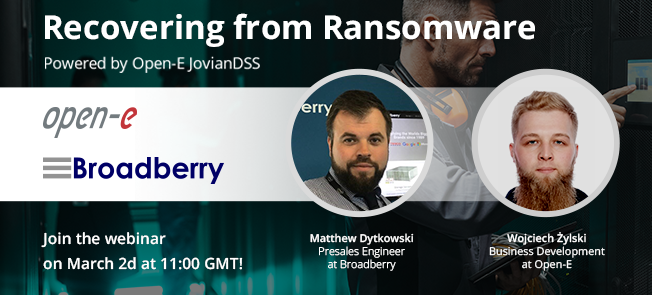 Join the Webinar
To learn more about the threat of ransomware, join our webinar prepared together with our partner Broadberry. 
Our experts, Matthew Dytkowski and Wojtek Żylski, will show how Open-E JovianDSS can help prevent your company from data loss due to ransomware on the example of real WannaCry!
Join us for the hour-long webinar on March 2, 2022, at 11:00 AM GMT. Register now by clicking the button below: