New Hardware Certification
Maguay PowerStor Certified for HA with Open-E JovianDSS
Certification time! Recently we have certified a new storage solution by our Gold Partner Maguay Computer SRL: the Maguay PowerStor HA Metro Cluster. Find details about it in today's newsletter.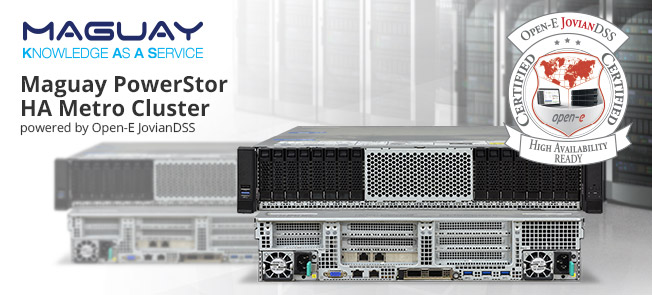 High Availability, Reliability, Great Performance
For your Mission-Critical Environments
Maguay has been a strategic Open-E Partner for many years and has always been working hand in hand with Open-E to deliver innovative solutions. The result of this cooperation is the powerful Open-E JovianDSS-based Maguay PowerStor HA Metro Cluster with which you can easily build a reliable private CloudBox, high-performing I/O storage, fast storage for Big Data ZFS appliances, or storage for HPC and AI. Moreover, the solution provides the following benefits:
Guaranteed data protection
Enhanced storage performance
Optimal resource utilization                           
Simplified management

High Availability
Data integrity check
Thin provisioning and an unlimited number of snapshots
Data compression and in-line deduplication
Find all details about the Maguay PowerStor HA Metro Cluster in the Certification Report.

---
Company information
Maguay Computer SRL
Maguay develops its own IT products, software platforms, and complete integrated solutions for its customers, with a TCO report (total cost of ownership) / competitive quality. The expertise gained in time is based on the integration of the most current and viable technologies in the most complex and varied projects. The company has built a strong reputation among customers and partners, having satisfied customers with which it has long-term partnerships. Read more about Maguay here >>