New Hardware Certification
Maguay PowerStor Single Node with Open-E JovianDSS
A couple of weeks ago we have we announced the certification of a new storage solution by our Gold Partner Maguay Computer SRL. Today, we're announcing another Maguay certification! This time their server was tested in a single node configuration and the results were as good as the predecessor's ones!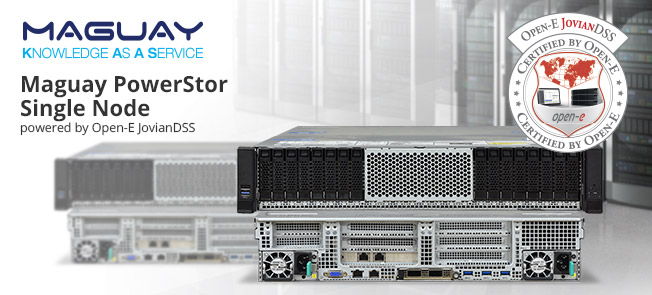 All-Flash Single-Node System
For Most Demanding Business Needs
Maguay PowerStor ensures robust data storage for the entire IT environment. Combined with Open-E JovianDSS, the server can be used in various configurations. The most recent certification has been conducted for a single node configuration and it is proven that the solution provides the following benefits:
Enhanced data storage performance
Extremely low latency
100GbE connectivity
Data integrity
An unlimited number of snapshots and clones
All-Flash data storage system
Find all details about the Maguay PowerStor Single Node in the Certification Report.

---
Company information
Maguay Computer SRL
Maguay develops its own IT products, software platforms, and complete integrated solutions for its customers, with a TCO report (total cost of ownership) / competitive quality. The expertise gained in time is based on the integration of the most current and viable technologies in the most complex and varied projects. The company has built a strong reputation among customers and partners, having satisfied customers with which it has long-term partnerships. Read more about Maguay here >>