Open-E Big News
Open-E Starts Celebrating Its 25th Anniversary
We've got some big announcements to make! The year 2023 is the year of the 25th company anniversary! For this occasion, we have some great plans for the whole year. As our trusted partner, you can become a part of our celebrations!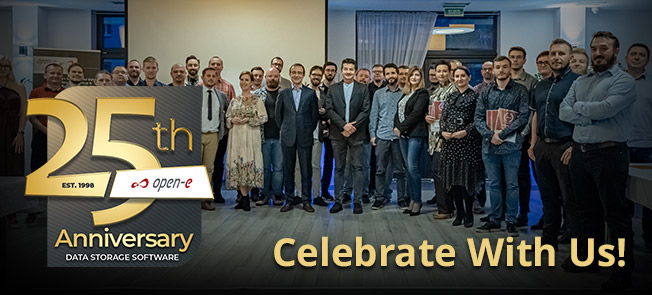 25 Years of Presence in the Global Data Storage Market
Open-E Makes Summaries and Plans
25 years is a long period of time. Open-E has gone through various ups and downs and managed to remain successful in the market. We have to admit that we are immensely proud of what we've achieved.
Therefore we plan to celebrate this anniversary not only on the 9th of September - the day that marks the setting up of the Open-E company but throughout the whole year. Starting today, exactly 7 months before the official anniversary day!
Today we invite you to visit our social media profiles. We have updated our profile images so that they fit the celebration mood. Can you spot any difference in our branding? Let us know in the comments how you like the changes.
Follow us on social media to be always up-to-date!