New Hardware Powered by Open-E
AIC HA202-PV NVMe Shared Storage Cluster
Recently we have completed the certification of the AIC HA202-PV NVMe Shared Storage Cluster server where the primary concern was high availability and top-notch performance. This was accomplished by installing Open-E JovianDSS on an innovative data storage system utilizing the speed and capacity of large and fast NVMe SSDs.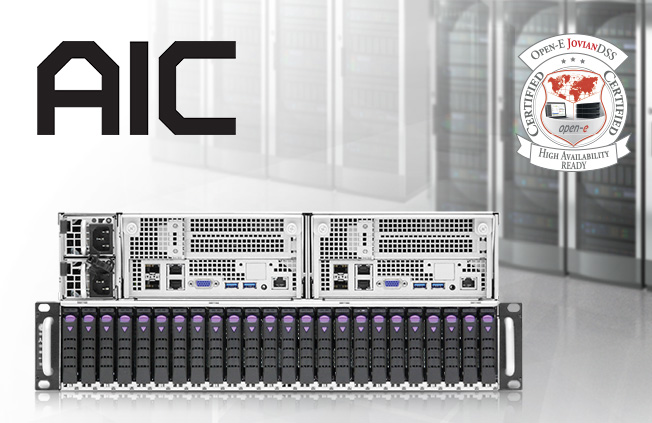 Flexible Storage
Ultra-fast Solution
Thanks to dual-port NVMe drives the connection is stable between two redundant nodes and thus if one node fails the second node takes over and the system is running without any issues whatsoever. The benefits of the solution are listed below: 
Enhanced storage performance
Cluster-in-a-box
Guaranteed data protection
Flexible scalability

High Availability
Unlimited number of snapshots and clones
Data integrity check
Thin provisioning
Click the button below to find out more about the system.

---
Company Information
AIC
AIC is a leading provider of both standard OTS (off-the-shelf) and OEM/ ODM server and storage solutions. With expert in-house design, manufacturing and validation capabilities, AIC's products are highly flexible and configurable to any form factor, standard or custom. AIC leads the industry with over 25 years of experience in mechanical, electronic, system-level engineering as well as a dedication to innovation and customer satisfaction. Headquartered in Taiwan, AIC has offices and operations throughout the United States, Asia and Europe.