Join the Webinar
AIC HA202-PV HA NVMe Shared Storage Cluster
We are inviting you to join a webinar conducted by Open-E, AIC, and Neurothink experts. The webinar will be devoted to the AIC HA202-PV HA NVMe Shared Storage Cluster and it will be held on May 26th, from 10:30 AM to 11:30 AM PST.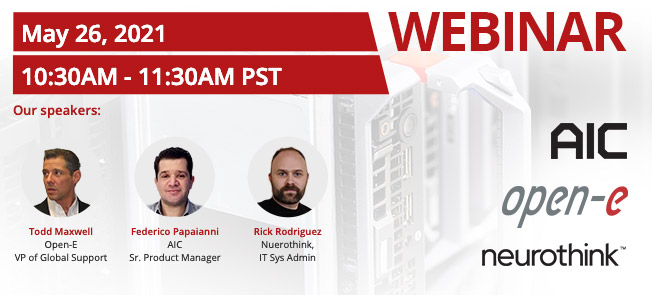 Register Today
The Power of Ultimate Storage Solution
After the webinar, you will have the opportunity to chat with the team from AIC, Open-E, and Neurothink. Also, by joining the webinar you will receive a $20 digital gift card!
Don't miss the opportunity and register today! Seats are limited and reserved for the first 200 approved registrants only! After the webinar, there will be a Happy Hour where you will have the chance to win one of three $100 digital gift cards and talk with our experts.