A New Hardware Component Certified
ATTO FastFrame N312 100GbE NIC Certified with Open-E JovianDSS
An energy-efficient card for media & entertainment and IT applications such as data analytics and hyper-converged servers, both Single Node and HA Cluster configurations - this is the ATTO FastFrame N312 100GbE NIC. This enterprise network adapter is now officially certified with Open-E JovianDSS.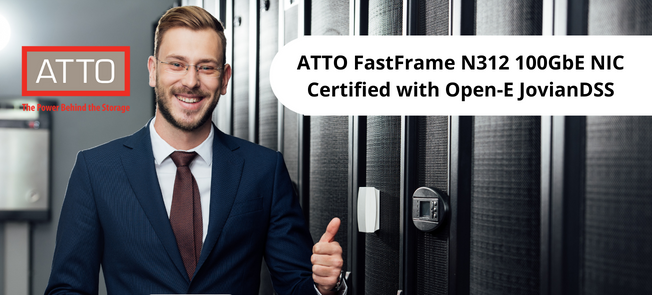 Full Functional Compatibility
Open-E Software and ATTO Hardware
The functional and performance tests have shown that the certified ATTO FastFrame N312 100GbE network adapter improves the performance of your system. It does not indicate any compatibility issues or other abnormalities.
Open-E Specialists recommend it for both single node and HA cluster configurations.