Open-E JovianDSS Up29r2 Features
NEW Video Tutorial - Configure SEDs in Open-E JovianDSS Within Minutes
Self-encryption is a powerful tool to elevate the security of your data. Luckily, Open-E JovianDSS supports Self-Encrypting Drives. Learn how to configure SEDs!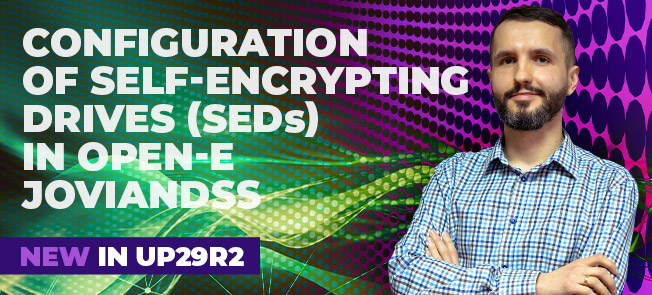 Open-E Video Tutorial Series
Configuration of Self-Encrypting Drives (SED) in Open-E JovianDSS
A Self-Encrypting Drive (SED) is an HDD or an SSD designed to automatically encrypt and decrypt drive data without the need for user input or additional encryption software.
SED support is a feature that was introduced to the ZFS-based Open-E JovianDSS in one of the recent updates (version up29r2) and thanks to the Open-E User Interface, setting it up requires only a few steps!
So how to configure Self-Encrypting Drives (SEDs) in Open-E JovianDSS in just a few minutes?
Watch the video tutorial and learn!