Register today
New Open-E JovianDSS Certified Engineer Trainings
-
Mark your calendars for the upcoming Open-E Certified Engineer Trainings! We offer two training dates, one in Germany and the other one in the US. This summer session is especially worth attending as these are the first trainings with extended agenda, which means you can learn and pracitice even more than before. Read on for more details.
-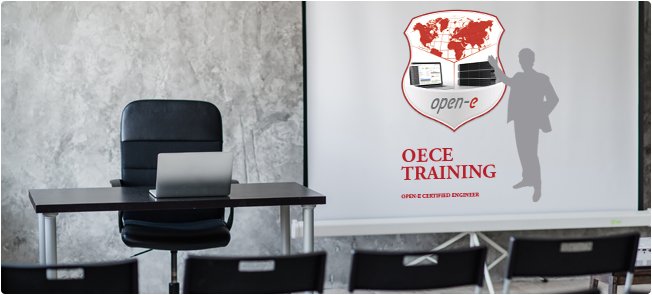 -
New OECE Training dates in June and new training agenda
Learn how to work efficiently with Open-E JovianDSS
-
From now on, the whole structure of the Open-E Training is different as we are focusing more on workshops than on the theory. OECE Training participants will have a chance to practice all the most important software features in order to understand the benefits by experiencing the product themselves.
-
Among the variety of topics that we are covering during the trainings, we will discuss how to:
Set up and use the software
Get to do lab work supervised by our technical specialists
Provide first-level support to your customers
Climb up in our partner level system
Furthermore, we have dedicated some additional time for the troubleshooting section so we'll show you what happens when a system crashes and how to recover it to the previous state. Also, we'll show you the best practices for the On- & Off-site Data Protection function. Last but not least, you'll get an updated Deployment Guide for even more profound assistance in you daily use of the software.
-
The certification as an OECE proves that an engineer gained a comprehensive knowledge of solving first-level issues and of course can work efficiently with the Open-E software and can implement the software in an IT-environment.
-
Note: Keep in mind that spaces are limited to six per date.
-
Open-E JovianDSS Training
Munich, Germany
June 4-6, 2019
Open-E JovianDSS Training
Atlanta, US
June 18-20, 2019
-

-
If you have any questions regarding the training and its new agenda, participation fees or hotel recommendations, contact an Open-E Sales Representative directly in your respective area. Find the Salesman Contact Details in the upper right side of your Partner Portal.
-