Open-E JovianDSS Up29r2 Features
MORE Video Tutorials About Open-E JovianDSS Up29r2 Features
Looking at customers' needs, we are constantly developing our product to meet these expectations and enhance the Open-E JovianDSS potential. Accordingly, new solutions related to NVMe Write Log devices have been implemented in the Up29r2 version. How does it apply to your work and what does it give you? See it yourself!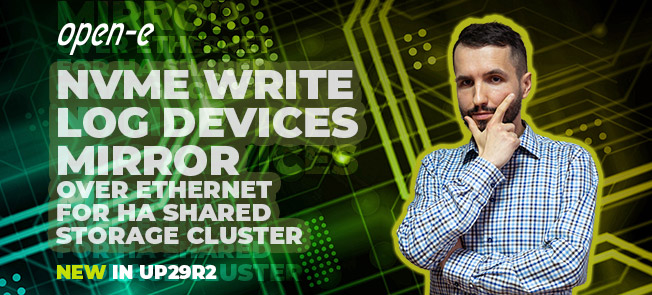 2nd Part of the Video Tutorial Series
Learn About the New NVMe Write Log Integration Possibilities in Open-E JovianDSS
With the Open-E JovianDSS Up29r2, you don't have to create an NVMe write log and employ a special backplane JBOD that could support both standard HDDs or SSDs and NVMe disks, as it's way easier now!
What does the up29r2 approach give you:
It allows the creation of the NVMe write log without the need to involve extra hardware units,

You benefit from the outstanding performance of the NVMe devices in the cluster nodes in a cost-effective High Availability Shared Storage Cluster. 
Want to see for yourself how the NMVe write log feature works in Open-E JovianDSS?
Visit the Open-E YouTube Channel and watch a video tutorial presented by one of our experienced Pre-Sales Engineers.