New Open-E JovianDSS Certified Server
Abacus Electric Jova1
-
We have certified a new storage server by our Gold Partner Abacus: the Jova1, suitable for a variety of storage environments and applications. Find details about the server in today's newsletter.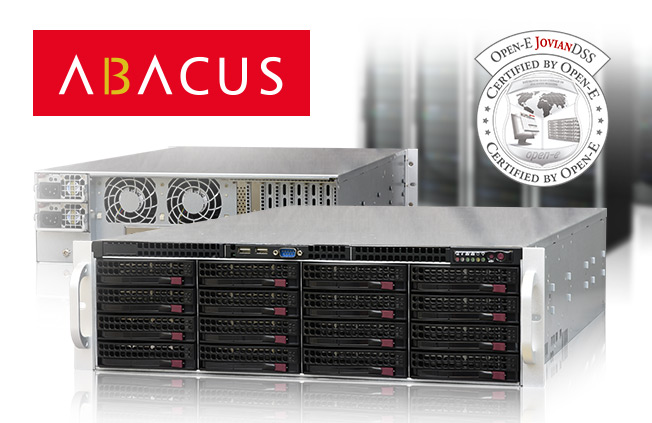 -
Private Cloud with Open-E JovianDSS on Abacus Jova1
High performance and optimal data security
-
The Abacus Jova1 with Open-E JovianDSS is a high performance and low power cost storage box that offers flexible IO options (10 / 25 / 40 / 50G). It features the latest low-latency NVMe SSDs as well as an Intel Xeon-D processor. Built-in support for unlimited snapshots provides highest data security and also allows to set up an individual backup plan. Additionally, the server is available with up to 128GB DDR4 Cache to boost the performance even more.
-
Enhanced storage performance
Optimal resource utilization
Simplified management
Optimized for Private Cloud

Data integrity check
Data compression
Tiered RAM and SSD Cache
Unlimited number of snapshots and clones
-
With these hardware and software features, Jova1 is a perfect choice for setting up Private Clouds that require smart utilization of all storage resources, enabling an easy management and problem-free maintenance.
-
Find all details about the Abacus Electric Jova1 in the Certification Report >>
---
Company information
Abacus Electric
-
Founded in 1992, Abacus Electric is the largest Czech server specialist, which has over its history developed its services from box-mover over bare-metal servers assembling to delivering tailor-made storage and servers solutions. Servers and storages are Build-to-Order (BTO) according to project requirements. Backed up by industry leaders, such as Supermicro, Intel, Asus, Broadcom, Open-E, Suse Linux, and many others, Abacus is the right partner for "No Vendor Lock-in" storage and server solutions for private / public cloud, virtualization, HPC, and other. Read more about Abacus here >>