Open-E JovianDSS Certified Server
ABC StorageNode SMC-2029-3R
-
This week we have certified a new server by our Partner ABC Systems AG: the ABC StorageNode SMC-2029-3R. This all-flash storage server is suitable for a variety of storage environments.
-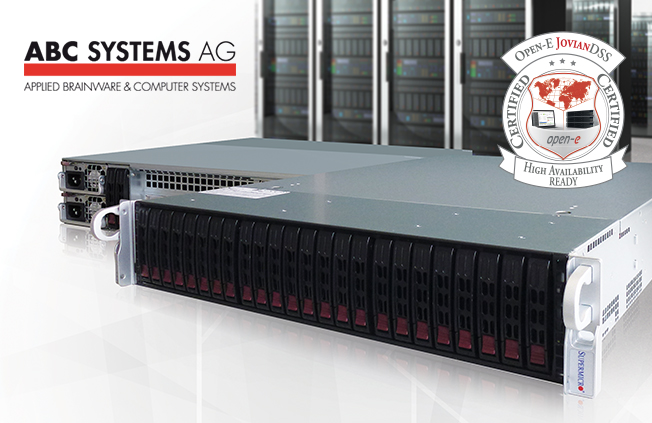 -
Open-E High Availability Storage Server
All-flash system for mission-critical environments
-
ABC StorageNode SMC-2029-3R certified for Open-E JovianDSS is a perfect fit for mission-critical, enterprise level storage applications which presents a variety of advantages to users working with Data Deduplication, Data Replication and Business Continuity, as well as CPU-Intensive Storage, Virtual Storage, Single-Instance Storage and Virtual Tape Library customer environments. The certified solution provides the following benefits:
-
Guaranteed data protection
Enhanced storage performance
Hardware independence
Flexible scalability

High Availability
Tiered RAM an SSD Cache
Data compression and in-line deduplication
Thin provisioning and unlimited number of Snapshots
-


Find all details about the ABC StorageNode SMC-2029-3R in the Certification Report.
-

---
Company information
ABC Systems AG
-
1981 founded, independent System Integrator for customer optimized high availability and performance infrastructures. ABC mainly focusses on data management (storage, backup, archive) with clusters of up to nPB and servers, based on broad experience and innovative concepts over 30 years. Services include design, implementation, support and remote monitoring or operating of the infrastructure whether sold, rented or leased, installed internally or externally in data centers - also as managed service package. More on the ABC Systems AG website >>