New Open-E JovianDSS Certified Server
Boston Igloo 4U-20T-Stor
-
Our QA specialists certified another storage system by our Gold Partner Boston: the Igloo 4U-20T-Stor with Open-E JovianDSS. The system is High Availability Ready and it is suitable for a variety of storage environments and applications.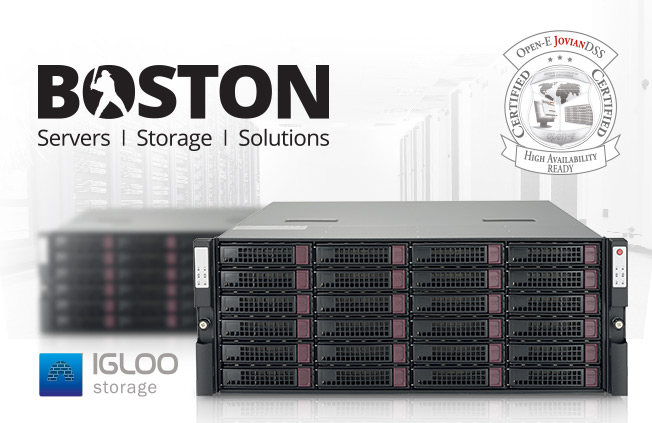 -
High Availability and high capacity
The innovative and reliable "Cluster-in-a-box"
-
The Boston Igloo 4U-20T-Stor with the ZFS-based Open-E JovianDSS software provides NAS, iSCSI, and SAN functionality - all in one enclosure. Enhanced performance, scalability, easy management and data protection are guaranteed thanks to the following features:
20TB NAS and iSCSI SDS SAN featuring Open-E JovianDSS

Standard delivery as high availability cluster

Quad RJ45 – Base-T – 1/10Gbit/s Ethernet ports as standard

20 x 2TB Enterprise SAS Disks – 20TB useable in mirrored drives

2 x 400GB Enterprise SSD and 1 x 400GB Enterprise SSD's for pool cache acceleration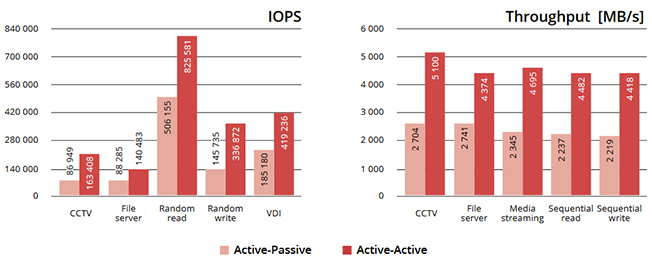 -
Read more about the server and its features in the Certification Report >>
-
Request pricing and more information on the complete system here >>
---
Company information
Boston Ltd.
-
Boston Limited has been providing cutting edge technology since 1992 using Supermicro® building blocks. Our high performance, mission-critical server and storage solutions can be tailored for each specific client, helping you to create your ideal solution. From the initial specification, solution design and even full custom branding – we can help you solve your toughest business challenges simply and effectively. Boston.co.uk