Open-E JovianDSS Certified Server
Starline NASdeluxe Z-Series
-
We're presenting a new storage system for Open-E JovianDSS by our partner Starline Computer: the NASdeluxe Z-Series. Find out more in today's newsletter.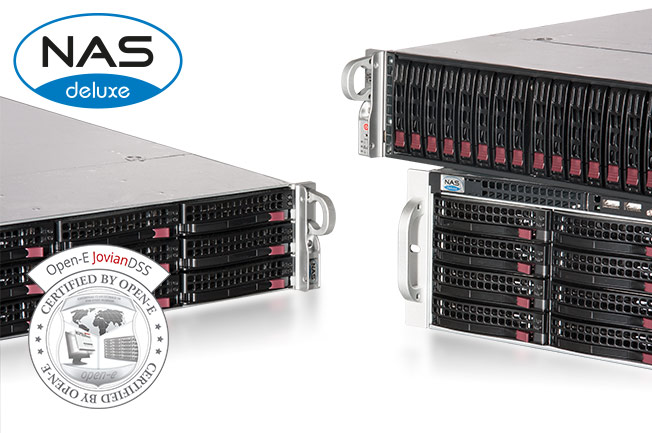 NASdeluxe Z-Series
Software-defined solution for a wide range of applications
-
The NASdeluxe Z-Series by Starline Computer is well-suited for different storage setups and is the best choice for enterprises that are seeking to deploy flexible configurations that can be expanded to High Availability clusters. It can be configured as an all-flash array that meets the requirements for high-throughput workloads with random data access patterns and fulfills the need for low latency.
Enhanced storage performance
Tiered RAM and SSD cache
Data integrity check
Data compression and in-line data
deduplication

Thin provisioning and unlimited snapshots
and clones
Simplified management
Flexible scalability
Hardware independence
-
Combined with high-performance Mellanox 40/56Gb Ethernet network cards (which were certified separately), the NASdeluxe Z-Series' modularity offers the option to easily upgrade to high-availability cluster solutions.
-
Find all details about the NASdeluxe Z-Series in the Certification Report >>
---
Company information
Starline Computer
-
Starline Computer has more than 30 years of professional experience with data storage systems - having been in the storage and server business since 1982. We are one of the first companies to completely dedicate ourselves to storage and server solutions. This guarantees our partners a maximum of competence. Starline provides complete virtualization and storage solutions such as SAN, RAID, NAS, IP storage, servers, tape libraries and autoloaders, RAID controllers, FC switches, backup software, HBAs and more. Read more about Starline here >>