Certified High Availability solution
Open-E JovianDSS on TAROX ParX R2082i G5
-
If you are looking to deploy a High Availability cluster environment supporting Private Clouds and Data Center workloads, check out the first certified storage solution for Open-E JovianDSS: TAROX ParX R2082i G5. We recommend it especially for VDI, databases, web servers or HA environments.
-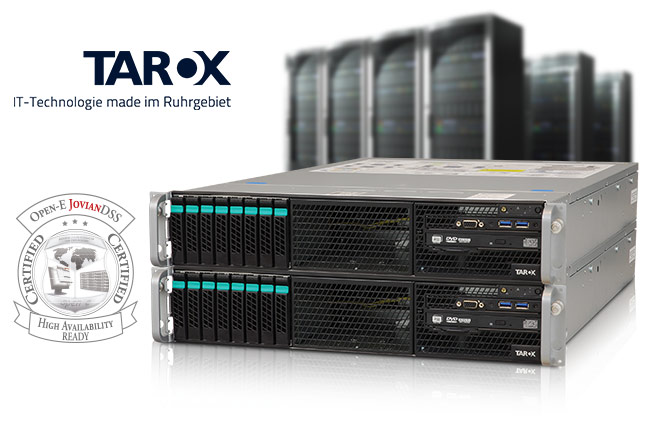 High Availability Ready storage solution
For the modern Enterprise
-
The TAROX ParX R2082i G5 gives enterprises the opportunity to deploy HA solutions that are high-performing in regards to computing, RAM, storage, I/O and network components. With Open-E JovianDSS Software Defined Storage the server offers exceptional efficiency and flexibility. On top of that customers can rest assured knowing that this solution is supported from A to Z: from the initial installation to everyday tasks and maintenance.
-
Guaranteed data protection
Enhanced storage performance
Hardware independence
Simplified management

High Availability
Data compression
In-line data deduplication
Tiered RAM and SSD cache
-
More details in the Certification Report >>
---
Company information
TAROX AG
-
TAROX is a leading IT supplier for integrated solutions and consistent product portfolios aimed at SMB customers in Germany, Austria and Switzerland. The company's teams support systemhouses and retailers with solutions for their B2B and government customers. The know-how of TAROX' Smart Business concept is a combination of its five areas of expertise: machines, distribution, consulting, data and services.