High-performance SAN storage system certified:
OpenStor Jovian
-
Today we would like to introduce a new Open-E certified solution from our Silver Partner Share Distribuzione : OpenStor Jovian. It addresses the needs of enterprise users seeking storage with supreme performance, guaranteed reliability, and unlimited scalability. Read on!
-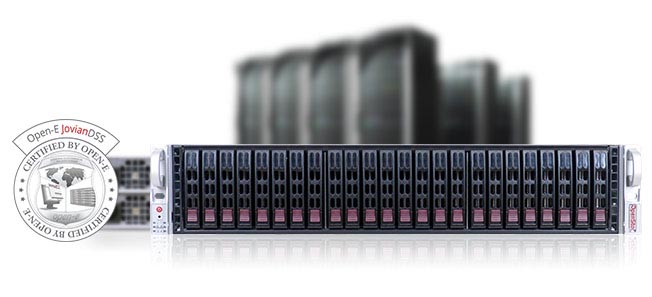 OpenStor Jovian:
NFS/iSCSI SAN storage with ZFS-based OS
-
Only the best components are used in OpenStor Jovian. On the 12Gb/s SAS3 platform you will find High-Endurance HGST SSDs, Intel 40GbE network adapters and more. The OpenStor team provides technical support for both - software and hardware.
-
Optimized for Private Cloud
Guaranteed data protection
Optimal resource utilization
Simplified management

In-line data deduplication
Data compression
Unlimited number of snapshots
and clones
-
More details in the Certification Report >>
---
Join the Workshop and find out more!
Software Defined Storage and OpenStor Jovian
-
Massimo Strina, CEO of Share Distribuzione and Janusz Bak, CTO of Open-E will be presenting benefits of software-defined solutions and OpenStor Jovian.
-
Date: September 17, 2015
Time: 9:00 a.m. - 4:00 p.m. CET
Location: Best Western CTC Hotel Verona
Fee: 60,00 EUR per participant
The workshop will be held in Italian language and is directed at technical IT staff. Food and drinks are included in the fee. Register by providing your complete contact information.
-

---
Company information
OpenStor
-
OpenStor is a storage brand of Share Distribuzione - a leading Italian manufacturer and distributor of Server and Storage since 1997. Share Distribuzione is an official distributor of Supermicro, Areca and HGST partner, and has many years of experience and know-how in the Unified Storage Servers area.
-
If you require any additional information, our Sales Team is here to help: