HA Certified with Open-E JovianDSS
MCCS SFC-R730-HA3
-
Check out the latest storage system certified for the ZFS-based Open-E JovianDSS : the SFC-R730-HA3 by our Partner MCCS. The server is High Availability Ready and suitable for a variety of storage environments and applications. Read on for more details!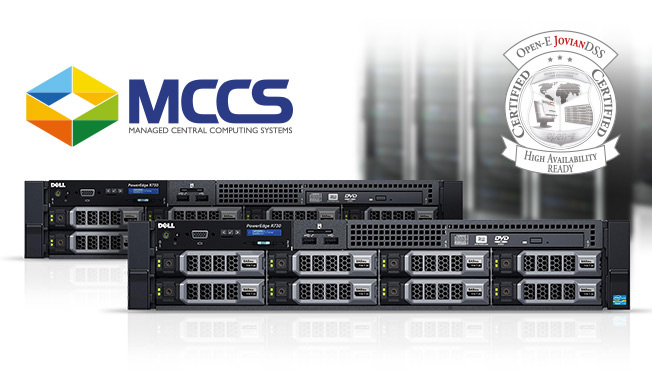 High Availability storage server
for mission-critical Enterprise storage applications
-
The MCCS SFC-R730-HA3 Storage for Clouds is an Enterprise modular storage system that consists of the Dell PowerEdge and PowerVault family series hardware and Open-E JovianDSS software. The server can be set up in various configurations, from a single node up to an advanced Metro High Availability Cluster with snapshot replication options. Benefits of the solution:
-
Guaranteed data protection
Enhanced storage performance
Flexible scalability
Simplified management
High Availability

Data integrity check
Thin provisioning
Tiered RAM and SSD Cache
Unlimited number of snapshots and clones
-
Find out more about the system in the Certification Report >>
---
Company information
MCCS
-
MCCS is an all-round IT service provider, specialized in consulting, delivery, implementation, maintenance and management of high quality and reliable IT infrastructures. We maintain your IT with the greatest care and attention – in all markets. SMEs, large business and enterprise: take advantage of our knowledge and expertise. We are there for you from start to finish, understanding and meeting your IT needs is our challenge.