Open-E JovianDSS Certified Server and free workshop
N-TEC rapidNAS JSS424
-
We have certified a new server by our German Platinum Partner N-TEC for Open-E JovianDSS: the rapidNAS JSS424. This high performance storage system delivers file and block storage in one system and fulfills the various requirements of NAS, iSCSI or Fibre Channel SAN environments. There will be a workshop about this system, too - read on!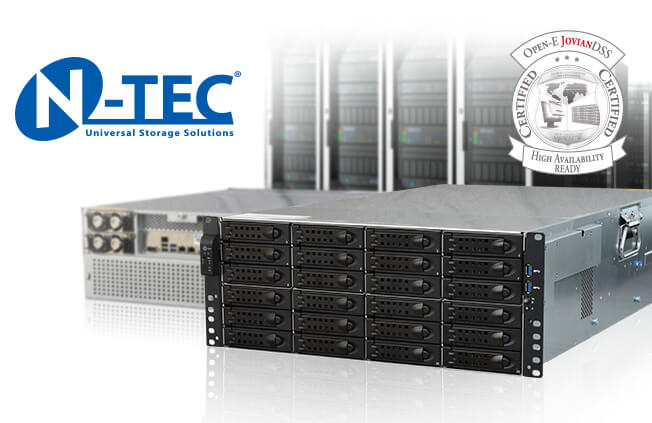 Open-E High Availability Storage Server
Business continuity for mission-critical environments
-
N-TEC's rapidNAS JSS424 certified for Open-E JovianDSS belongs to the latest line of next-generation High Availability storage solutions of the company. It is built of two nodes set up in a high availability cluster configuration, and is based on the the latest Intel XEON processor technology. The certified solution provides the following benefits:
-
Guaranteed data protection
Enhanced storage performance
Flexible scalability
Optimized for Data Centers

High Availability
Data integrity check
Data compression and in-line deduplication
Thin provisioning and unlimited number of Snapshots


Find all details about the rapidNAS JSS424 in the Certification Report >>

Configure and buy the system here >>
---
Register free of charge today!
N-TEC & Open-E Workshop
-
On October 25, 2017 N-TEC will hold a workshop presenting the rapidNAS JSS - Advanced Metro HA Cluster with Open-E JovianDSS in Munich, Germany. Don't miss it and register as places are limited. Find more information, the agenda and registration form here >>