Back up your data
On- & Off-site Data Protection with Open-E JovianDSS
-
Nowadays, a backup solution is necessary in all kinds of businesses. However, not everyone protects the data in an appropriate way which might result in information theft, revenue losses, or even bankruptcy. But Open-E has a ready solution!
-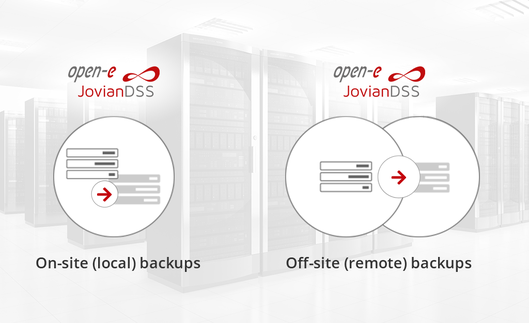 -
Secure your business
No additional tools required
-
Open-E JovianDSS is a ZFS- and Linux-based Data Storage Software designed for enterprise-sized Software Defined Storage environments and also for medium and small types of businesses.The On- & Off-site Data Protection feature in Open-E JovianDSS Data Storage Software allows users to back up and restore crucial company data in case of an unexpected disaster due to a combination of several technologies. What are the benefits of using Open-E On- & Off-site Data Protection?
Instant backup of everything
Encrypted transfer
Very light backup engine
Optional removal and rotation of backup media
Protection against Ransomware
And many more!
-

-
-
-