Connect with Us
Meet Open-E at the 2023 NAB Show in Las Vegas
We've just returned from the amazing CloudFest in Rust, Germany and now we're already preparing for yet another event! This time you can meet us at the NAB Show in Las Vegas, Nevada. Visit booth #N1867 - our trusted Partner Scale Logic will be waiting there for you. Open-E CEO, Kristof Franek, will be at the booth as well!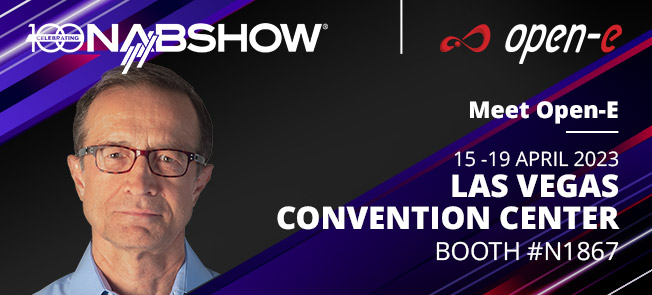 Technology, Innovations, Possibilities
April 15 - 19 in Las Vegas Convention Center
NAB Show is one of the world's most significant events for media, entertainment, and technology. It covers not only broadcast TV, production, or cyber security topics but also data storage and data management.
This year's NAB Show will be as special as always, and even more!
The 2023 NAB Show Centennial will be the pinnacle for all in the global broadcast, media, and entertainment industry. A portal to next-generation technology. A catalyst for best-in-breed products. A place to experience the power of possibility in people met and products discovered. In an arc spanning the last century, NAB Show has been influential in evolving our industry. Sound to picture. Analog to digital. Static to immersive.
Source: nabshow.com
Open-E is proud to be among the innovations again. Visit Open-E Platinum Partner Scale Logic and learn about their solutions with Open-E JovianDSS at booth #N1867.
Also, don't forget to visit other Open-E partners:
AIC at booth #N2375
ATTO Technology at booth #N2369
Seagate at booth #N1827
Western Digital at booths #N1220, #N3200, #N3202
See you in Las Vegas!