Calculate before you order
Open-E JovianDSS Storage License Calculator
-
The exact license that is required for your individual storage setup with the ZFS-based Open-E JovianDSS can be easily and accurately calculated. Use the handy Storage License Calculator and get the quote sent directly to your inbox now.
-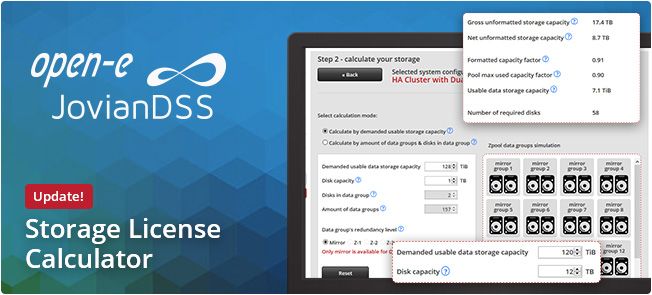 -
Size the capacity license for your
Open-E JovianDSS storage setup
-
Getting detailed information on your Open-E JovianDSS setup takes only two simple steps. First, you need to select your system configuration. You can choose from the following options:
Single Node
HA Cluster with Common Storage
HA Cluster with Dual Storage
HA Cluster over Ethernet
Next, you need to fill in the following fields:
Demanded usable data storage capacity
Disk capacity
Disks in data group
Number of data groups
Completing these steps will result in displaying the information on the gross and net unformatted storage capacity, usable data storage capacity, number of required disks, required total license capacity, recommended licenses and more. Also get a Zpool data groups simulation, see the Pool Capacity Efficiency and Performance Index.
-
NEW! By clicking the "Request a quote" button, you'll be redirected to our pre-sales and get all information sent to you via e-mail.
-