Test before you purchase
Try the fully functional Open-E JovianDSS Trial
-
Test our Open-E JovianDSS Software-Defined Storage before you buy it. How? You can do this for free by downloading the Trial version on our website. Read on for details!
-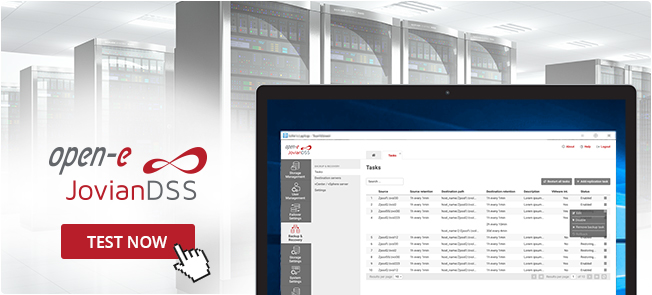 -
Give it a try for free
60-day trial version of the software
-
Open-E JovianDSS is a ZFS- and Linux-based Data Storage Software designed for businesses of any size, especially for Software-Defined Storage environments. Test the software to get a first impression of the variety of features and configurations before fully implementing it into your environment - you can decide after thorough review. It takes only three steps:
Create a user account,
Generate an Open-E JovianDSS Trial product key,
Download and install the software.
You can download the software for either a Single Node or a Cluster setup. If you already have an Open-E account, simply log into your portal. Next, to generate a product key, which is required to run your Trial version, go to the "Products" section in your Portal. After the installation, use the generated key and enjoy your fully functional Open-E JovianDSS Trial for 60 days.
-

-