Download and learn
Discover Open-E software with Open-E Library
-
Open-E offers a variety of knowledge resources to allow you to learn how to get the most out of your environment with Open-E JovianDSS software.
-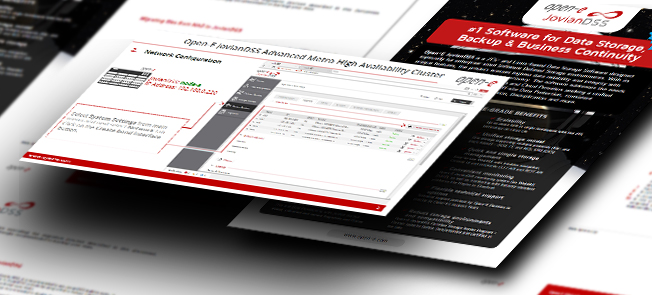 -
Explore the resources for free
Learn about storage, backup, business continuity and disaster recovery
-
Open-E JovianDSS is a ZFS- and Linux-based data storage software designed for businesses of any size. The product includes a great number of advanced functionalities that can enhance your backup and disaster recovery strategies, ensure flawless maintenance of your environment and guarantee the highest data reliability and integrity, and more.
-
How to handle all those features and possibilites? Where should you start? Find answers to all questions that bother you in the Open-E Library where we offer you free knowledge resources that present the benefits of the software and an overview of its advanced features and other useful details:
Data sheets
White papers and installation guides
Case Studies
How-to documents
Solution articles
Step-by-step video tutorials
​You can download all the above-mentioned documents on our website. Easy filters wll help you to find exactly what you need! Additionally, you might find some handy tips on the Open-E Blog >>
-

---
Subscribe to Open-E YouTube Channel
Enjoy a visual experience of our software
-
In case you prefer visual presentations of software functionalities you should visit our channel on YouTube - we have already published more than 300 videos. Visit and subscribe to Open-E's YouTube Channel here >>