Software updates
Get the latest version of Open-E JovianDSS
-
Some time ago we have released the up28 for Open-E JovianDSS. In case you haven't updated your Ope-E Jovian yet, do it ASAP and benefit from some new features.
-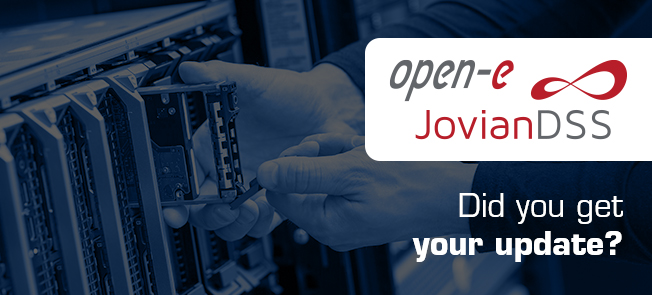 -
Constant development and software improvements
Open-E JovianDSS update available
-
Open-E engineers constantly work on the development of our flagship and best-selling product, the ZFS- and Linux-based Open-E JovianDSS. The most recent update 28 contains a range of new features, updates, and fixes which will definitely make your daily software maintenance seamless and simple. As an example, up28 will provide you with the following features and benefits:
HA Cluster Ring can be now configured as two single connections
HA cluster ping nodes can be now configured within any available interfaces and subnetworks
Static routing configuration is available in WebGUI
Custom SSL/TLS certificates can be now manually imported in WebGUI
ZFS Datasets can get a record size value from a range of 4KiB up to 16MiB
Fibre Channel Target mode is available for ATTO Fiber Channel Adapter
Improved performance of LDAP database replication mechanism
And many more!
-
For detailed information on specifically update 28, go to the Release Notes or the Open-E Blog.
-
-

---
In case of any other questions regarding software updates, contact the Open-E Sales Team directly! Call +1 (678) 666 2880 for the US / +49 (89) 800777 0 for Europe, or send an e-mail to sales(at)open-e.com
-