Choose a language
Open-E JovianDSS videos now with subtitles
-
Did you just install Open-E JovianDSS and you want to make sure how to use a certain feature of the software? Open-E JovianDSS Webinars and Video Tutorials are now equipped with subtitles.
---
Skip the speakers
Watch our videos with subtitles
-
Using our videos to learn more about specific software functionalities is now more convenient than ever: there's no need for speakers and more languages are available.
-
All you need to do is start the video, hit the little cogwheel for settings on the bottom right side, and choose your preferred language.
-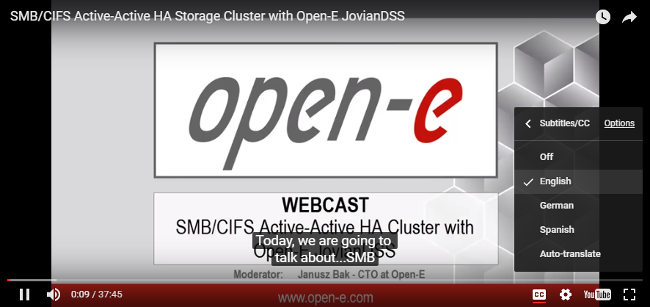 -
Videos that are available with subtitles on our website:
Watch them now - enjoy your lessons, viel Spass mit den Lektionen, ¡Diviértete con las Lecciones!