Open-E JovianDSS Up29r2 Features
NEW Video Tutorial - SSD TRIM in Open-E JovianDSS Features
What exactly is the SSD TRIM feature in Open-E JovianDSS? Well, this feature is necessary for improving the performance of the solid-state drives in your data storage solution and it can increase its life expectancy. Want to learn details? Watch the video tutorial!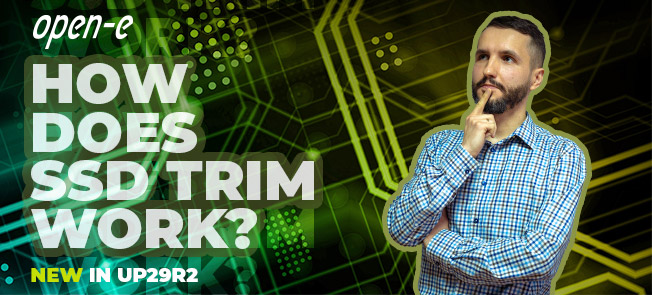 Open-E Video Tutorial Series
Next: How Does the SSD TRIM Work?
The TRIM feature helps to prevent performance from degrading on drives in the zpool. What are the main characteristics of this feature?
Thanks to the TRIM feature, the system knows the disk location of the data that should be moved or deleted at a given moment.

It can be started either manually or by means of the autoTRIM.

It works only for drives that support this function.
Want to learn how to start the SSD TRIM feature in Open-E JovianDSS?
Visit the Open-E YouTube Channel and watch a video tutorial presented by one of our experienced Pre-Sales Engineers.