Cast your vote
Open-E JovianDSS is a finalist in SVC Awards 2018
-
Good news! Open-E has been shortlisted as finalist in the SVC Awards 2018! This is the 8th edition of this prestigious event and nominations are already open.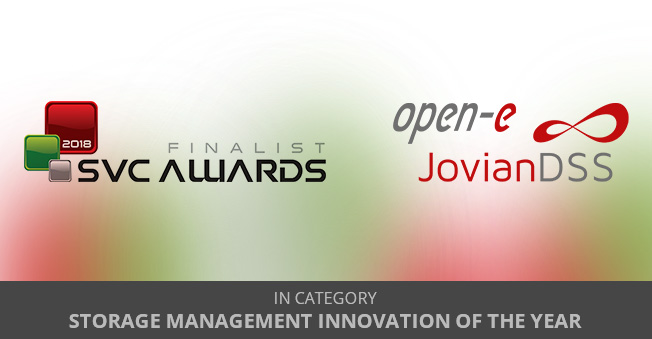 -
Help us win another award this year
Thank you for every vote!
-
The SVC Awards recognize the products, projects, services and companies operating in the cloud, storage and digitalisation sectors to reward their achievements, innovations and their thinking outside the box.
-
Thanks to your help, this year Open-E JovianDSS has already been awarded by the DCS Awards 2018 as "Data Centre ICT Storage Product of the Year. Now we kindly ask for your support by voting for us in the "Storage Management Innovation of the Year" category in SVC 2018 Awards. You can do it until November 9, 2018. Thanks in advance for all your votes!
-
-
---
Try Open-E JovianDSS yourself to become fully convinced that we deserve this award. Go to the Open-E website and download a fully functional 60-day Trial version, available at no cost - download it here >>