New update of
Open-E JovianDSS Storage License Calculator
-
Size your capacity license for your individual storage setup with Open-E JovianDSS with the updated version of our Storage License Calculator. Try it for yourself and your customers now!
---
Simple license calculations
for your Open-E JovianDSS storage setup
-
The updated Open-E JovianDSS License Calculator includes two new improvements: a brand-new interface to make the tool more intuitive and user-friendly, plus a feature that enables generating the results of your calculations into a PDF document. From now on, users can keep their results handy and use them whenever necessary!
-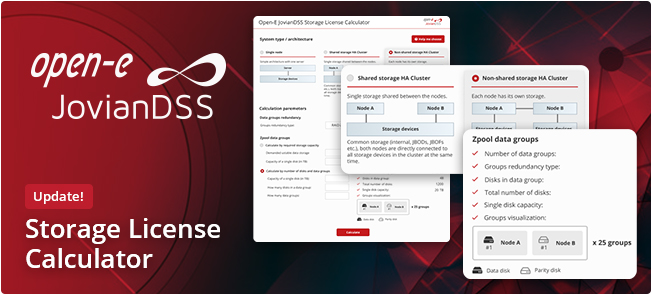 -
Step 1: Select your system configuration - either a Single Node, a shared storage HA Cluster or a non-shared storage HA Cluster.
Step 2: Calculate your storage - fill in the fields with information on the demanded usable data storage capacity, disk capacity, disks in data group, number of data groups.
The tool displays the gross and net unformatted storage capacity, usable data storage capacity, number of required disks, required total license capacity, recommended licenses and some other information.
-
Note: By clicking the "Request a quote" button, you'll be redirected to our Sales Team and get all information sent to you via e-mail.
-
-

-