Self-Development with Open-E
Expand Your Knowledge With a Brand-New Open-E ZFS Course
Open-E JovianDSS is obviously our flagship data storage software product and we are fully acquainted with the technologies that stand behind our solution. But as Open-E specialists, we also understand that the topic may seem complicated at first sight due to the complexity of data storage in technologies that constantly change and improve. Luckily, we've got a solution to this problem as well!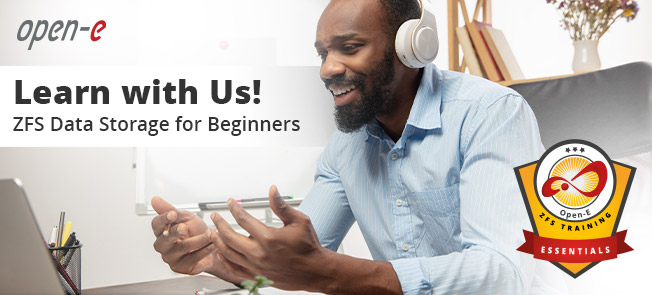 ZFS Data Storage for Beginners Course by Open-E
Learn the Essentials
The ZFS Data Storage for Beginners course is our solution for administrators and specialists who want to learn the fundamentals of the data storage topic.
What can you find in the course?
ZFS Essentials
Cluster Essentials
On- and Off-site Data Protection
Virtualization & Cloud
Calculation Storage Capacity
The course is free of charge. After successfully completing the course, you will receive a certificate that proves that you have gained in-depth knowledge of ZFS and data storage.
Keep in mind that you can complete this tailor-made course within one day or divide your training into several parts - we want to make the learning process as flexible and comfortable for you as possible.
Interested? Apply now!