Best Practices and Tips
Optimize Open-E JovianDSS as Storage for Virtualization
Virtualization involves software that simulates hardware to create a virtual computer system. Simple and effective. This concept allows its users to get rid of the limits forced by physical storage devices. The good news is that Open-E JovianDSS can flawlessly be used as storage for virtualization. How? Read on for details!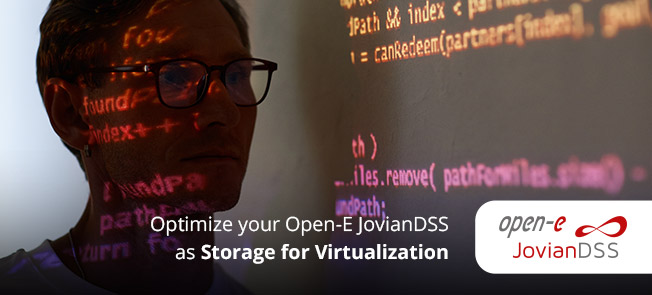 Open-E JovianDSS Data Storage Software
Perfect Storage for Virtualization Solution
Virtualization makes IT environments easier to manage and more affordable in terms of ownership and management, so it's no surprise that it's so commonly used. Luckily, Open-E JovianDSS is a perfect fit for either virtualized storage solutions or as storage for virtualization.
Go to the Open-E Blog to read an informative article in which we have gathered plenty of useful tips and tricks from our engineers on how to optimize Open-E JovianDSS as storage for virtualization.
For all tips and hardware recommendations, read an article by clicking the button below!