Cost-Effective Data Storage for Virtualization 
Open-E JovianDSS with Built-in Backup for VMware-based Virtual Environments 
Being VMware Ready™, Open-E JovianDSS has proven itself to be a cost-effective, flexible, and scalable data storage solution for virtual environments that offers high availability, high performance, and high data efficiency. That is why about 80% of our customers use our software for virtualization with VMware!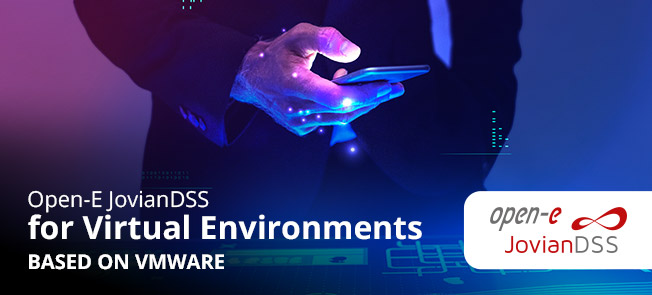 Learn The Opportunities
With Open-E JovianDSS, you can unlock the enhanced possibilities of a  data storage solution working on the base of VMware, such as:
Consistent backup of Virtual Machines and user data,

Quiesced snapshots feature,

Offload operations support for iSCSI, Fiber Channel, and NFS,

Single-Root Input/Output Virtualization (SR-IOV). 
Sounds interesting? Learn more by clicking the button below: