Partner Brochure
Open-E JovianDSS software with Toshiba HDDs
Technologies behind hard disk drives (HDDs) have been well-tested and are currently well-known, as this type of disk has been on the market for over 50 years. Therefore, today we'd like to present a brand-new document highlighting some of the most significant benefits of HDDs.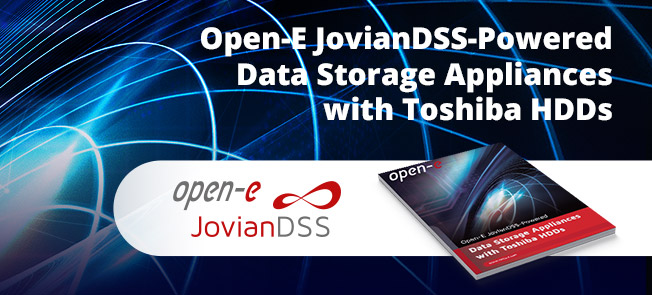 Open-E JovianDSS-Powered
Data Storage Appliances with Toshiba HDDs
Download a brochure prepared in cooperation with Toshiba to learn about:
Benefits of HDDs,

Comparison of HDD and SSD,

Open-E JovianDSS caching approaches,

Performance challenges,

Toshiba Enterprise HDD models.
Interested? Check out the brochure: