Storage and RAID Calculator
How to Size the Exact Licensing of Your Future Setup
Don't forget that you can easily calculate the exact license that is required for your storage setup with Open-E JovianDSS. You only need the handy Open-E Storage and RAID Calculator.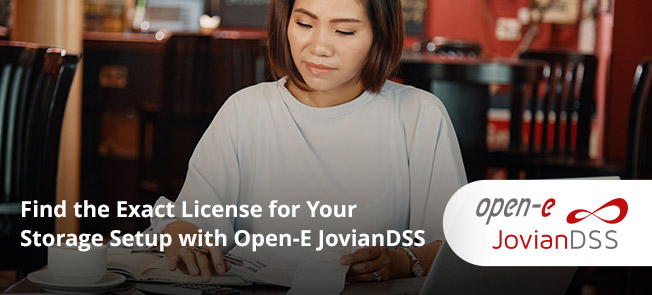 Quick and Simple Calculations
For Your Open-E JovianDSS Storage Setups
How to pick the solution that matches your business needs? You only need to go to the Open-E JovianDSS Storage and RAID Calculator, select your preferred configuration, set the required calculation parameters, and finally choose a data group redundancy. And done! The tool will provide all details that should be considered before building the final setup. Plain and simple.
Before you test the tool yourself, watch the video tutorials in which we present calculator usage in great detail. Find tutorials on the following configurations:
Single Node (RAID-Z1-3)

Single Node (Mirroring)

Shared Storage HA Cluster

Non-shared Storage HA Cluster
So, wait no more and learn how to size the exact required license.