Open-E and Partners at CloudFest 2022
Open-E and Toshiba solution for data center providers
Do you remember the successful implementation we did with Toshiba back in 2017? Well, we're happy to say that it still works and there's been no downtime with this solution since then! If you want to learn how to build a solution that lasts for ages and gives you peace of mind, meet us at CloudFest 2022, we'll be more than happy to guide you through this setup.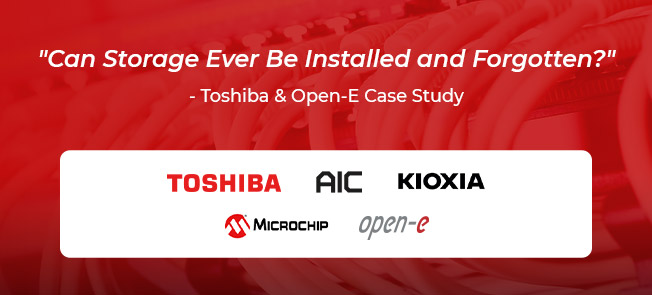 Rock-solid Stability and Excellent Performance
Open-E Software and Toshiba Hardware
NTT needed a reliable and high-performance storage solution. Therefore, Toshiba recommended Open-E JovianDSS as the data storage software due to the long-lasting Partnership. This year we'll be celebrating the 5th anniversary of this implementation.
"We are exceptionally proud to have the partner network of Open-E, KIOXIA, AIC, NTT and Microchip. Even if your Toshiba Hard Disk Drives are incredibly reliable, they still need a reliable system built out of many components to deliver real end-user value."
Rainer Werner Kaese, Senior Manager at Toshiba Electronics Europe GmbH
If you're at CloudFest 2022 in Rust, Germany, visit us at booth C04 where Open-E representatives will be waiting for you together with Toshiba Specialists. Also, read the case study!