Successful Implementation
Ensured Serenity with a Scalable Open-E JovianDSS-based Solution
Viasit, a solution provider in the office furniture sector, has successfully implemented a data storage solution by EUROstor and Open-E, and now they benefit from a range of enterprise-class features.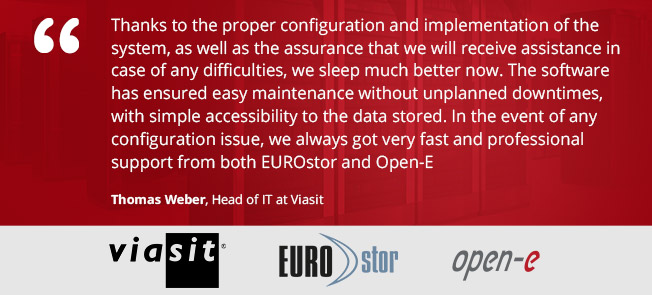 Open-E and EUROstor Collaboration
For Flexible, Scalable, and Affordable Data Storage Solutions
To face all the company goals, Viasit has chosen Open-E's partner EUROstor to cover all the requirements for:
Continuous data accessibility (High Availability),
Advanced data protection,
Scalable data storage solution for the potential further expansion,
Compatibility and certification with the VMware environment,
Affordable price-performance ratio.
Want to learn more? Check out the case study by clicking the link below.