Voting now open
Open-E shortlisted in DCS Awards 2022
Open-E has been shortlisted as a finalist in the DCS Awards 2022. It is a big honor for us to be among the best solutions on the market again.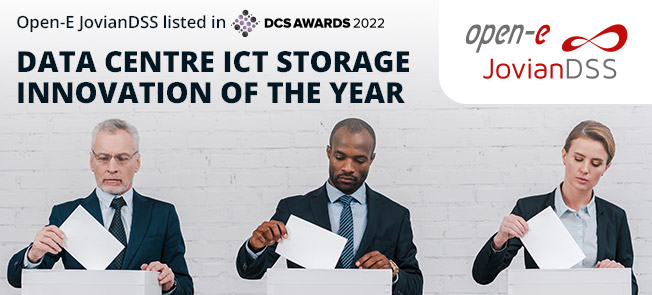 Support us 
Vote for the Open-E company
Open-E enjoys a good reputation in the data storage market for the best-in-class performance, flexibility, reliability, scalability, and return-on-investment of our flagship Open-E JovianDSS. It's no surprise that the ZFS- and Linux-based data storage software has again been recognized for its innovation by being listed as a finalist in the DCS Awards as "Data Centre ICT Storage Innovation of the Year". 
Support us by casting a vote. You can do it until May 6, 2022.