Best Practices and Tips
Optimizing Open-E JovianDSS as Storage for Virtualization
That's no surprise that virtualization allows businesses to get rid of the boundaries imposed by physical storage devices. Open-E JovianDSS can also be seamlessly used as storage for virtualization, but how to benefit from it to the fullest?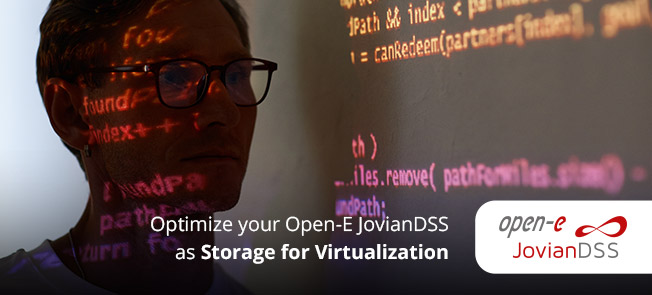 Open-E JovianDSS Data Storage Software
Perfect Storage for Virtualization Solution
Open-E JovianDSS is a perfect fit for either virtualized storage solutions or as storage for virtualization. If your customers seek powerful storage for virtualization solutions, then Open-E JovianDSS will fulfill all the demands.
But how to set it up properly? Go to the Open-E Blog to read an article in which we have accumulated valuable tips and tricks from our engineers on how to optimize Open-E JovianDSS as storage for virtualization to get the most out of such kind of implementation.
So, for all tips and hardware recommendations, read the article by clicking the button below!