Get the new update
Open-E JovianDSS up18
-
The new update 18 for our ZFS-based Open-E JovianDSS has just been released, and is now available on our website . And it's not only about new features! If you are using Open-E DSS V7, you can now easily migrate to JovianDSS.
-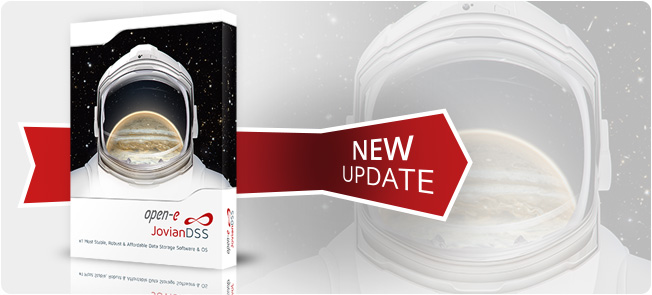 -
Higher fault tolerance and improved Data Integrity
Download the update today
-
Update 18 contains the Data Migration Tool, a special migration mechanism for an easy transfer from Open-E DSS V7 or other software to the enterprise-class Open-E JovianDSS . Among various improvements and fixes, these are the other new functionalities:
Disk Multipathing support for higher fault tolerance, Data Integrity and performance
Software RAID support for bootable mediums for improved High Availability and security
System management via RESTful API for more flexibility
VMware Auto Storage Rescan for an automatic scan after planned or unplanned reboots
Customizable alert thresholds
Additionally, you can use the maxView Storage Manager which simplifies the general monitoring process, and enables the configuration of storage controllers in a given system built on Microsemi Adaptec HBA or RAID adapters.
-

-
Find detailed information on update 18 in the Release Notes