New software update available
Open-E JovianDSS up25 with Fibre Channel Target
-
We have released the brand-new update 25 for Open-E JovianDSS. Download it today and enjoy new functionalities like Fibre Channel Target and more!
-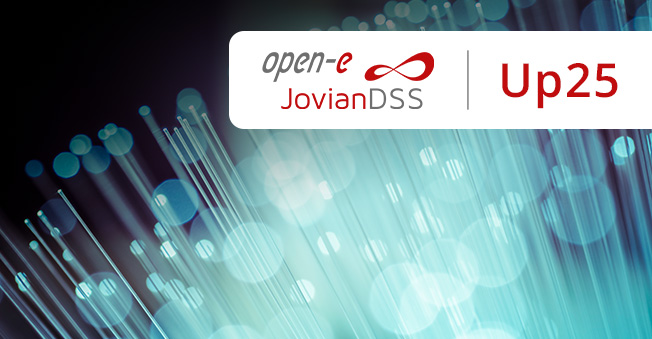 -
Improved efficiency, best throughput, low latency
Get the update 25 for your Open-E JovianDSS
-
With update 25, Open-E JovianDSS now supports the Fibre Channel technology not only as an Initiator (for connecting external FC devices) but also as a Target, so that users can serve virtual volumes over the FC protocol. But there's more! Find the complete list of all new features below:
Fibre Channel Target in Single Node and High Availability setups
Improvements for On- and Off-site Data Protection feature
ZFS force import
Up to 1MB ZFS record size
SMB Trusted Domain support
Software and hardware (IPMI) watchdog for cluster
Non-uniform Memory Access (NUMA) support
VLAN support
and more!

-
For detailed information on update 25 go to the Release Notes or the Open-E Blog
---
In case of any questions contact the Open-E Sales Team directly! Call +1 (678) 666 2880 for the US / +49 (89) 800777 0 for Europe, or send an e-mail to sales(at)open-e.com