Get new software uppdate
Open-E JovianDSS update 27
-
A brand-new software update is now available! Read about update 27 for Open-E JovianDSS in today's newsletter and later download it for yourself.
-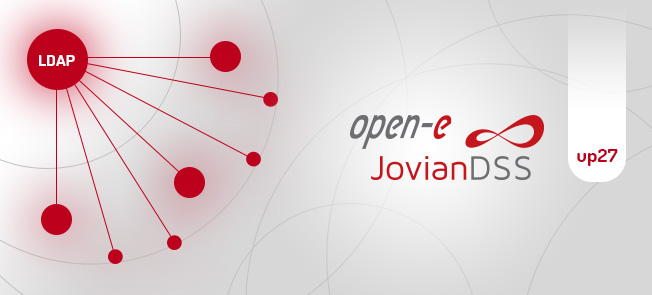 -
Benefit from the latest feature
Download the updated Open-E JovianDSS
-
The update 27 contains a range of new features, updates and fixes thanks to which Open-E JovianDSS provides even better efficiency, performance and flexibility. Below you can find the complete list of what's new:
Local LDAP users and groups authentication for SMB /CIFS protocol
Support for NVMe disks in High Availability Metro Cluster (Cluster over Ethernet)
Support for three ZFS pools in High Availability Cluster
File-IO write-back and write-through modes for iSCSI volumes
Block-IO mode for Fibre Channel volumes
Support for Broadcom BCM573xx and Broadcom BCM574xx controllers (bnxt v.1.8.54)
Additional system tuning option in TUI
Emergency option to disable ZFS pools import during system start
Additional system log for optimization report for Mellanox Ethernet/Infiniband Adapters
Password modification for Adaptec MaxView and Broadcom MSM tools
-

-
Find the Release Notes for the Open-E JovianDSS up27 here. On this specific topic, you can also refer to the new Blog article.
---
Contact an Open-E Partner in your area if you want to learn more about Open-E JovianDSS and its features. Go to the Open-E Partner Finder >>