New software update available
Open-E JovianDSS up28 with new features
-
We have released the brand-new update 28 for Open-E JovianDSS. Download it today and enjoy new functionalities!
-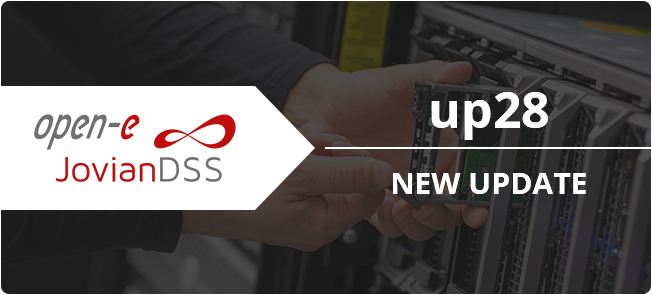 -
Improved performance, enhanced WebGUI and more!
Get the update 28 for your Open-E JovianDSS
-
The up28 contains a range of new features, updates, and fixes thanks to which Open-E JovianDSS provides even more flexibility, performance and reliability. New features included in this update:
HA Cluster Ring can be now configured as two single connections
HA cluster ping nodes can be now configured within any available interfaces and subnetworks
Static routing configuration is available in WebGUI
Custom SSL/TLS certificates can be now manually imported in WebGUI
ZFS Datasets can get a record size value from a range of 4KiB up to 16MiB
Fibre Channel Target mode is available for ATTO Fiber Channel Adapter
Improved performance of LDAP database replication mechanism
Storage performance test tool is available in TUI
HPE tools for managing HP Smart Array controllers are now available in WebGUI and TUI
MacOS Spotlight search support
Installer creates now 128GB boot medium partition size
New filtering options for Event Viewer
Kdump – kernel crash dumping mechanism
The default SCSI ID for iSCSI and FC luns can be now manually set in WebGUI
Deduplication statistics for zpool are now available in WebGUI
Ethernet cards detailed statistics
Statistics for MPIO devices are displayed on the WebGUI
Linux iostat and S.M.A.R.T data are now available in Checkmk monitoring system
Apart from the new features above update 28 includes a long list of updates and fixes, like updated drivers for Mellanox ConnectX-4 and Mellanox ConnectX-5.
-
For detailed information on update 28, go to the Release Notes or the Open-E Blog.
-
-

---
In case of any other questions, contact the Open-E Sales Team directly! Call +1 (678) 666 2880 for the US / +49 (89) 800777 0 for Europe, or send an e-mail to sales(at)open-e.com
-