Open-E JovianDSS for Virtualization
Open-E JovianDSS and VMware
Most Open-E JovianDSS users utilize the software with various hypervisors, taking advantage of the outstanding compatibility. However, about 80% of them choose our software for virtualization with VMware. But what makes this combination so special?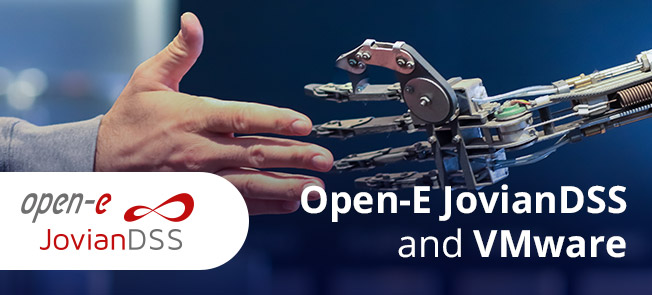 Pros of Using Open-E JovianDSS with VMware
There are numerous positive aspects of utilizing VMware with Open-E JovianDSS. For example, Open-E JovianDSS with VMware vSphere can be claimed beneficial as it supports:
Offload operations for iSCSI and Fiber Channel with VMware vStorage APIs for Array Integration (VAAI)

Single-Root Input/Output Virtualization (SR-IOV)

Advanced protection against Ransomware
And that's not the complete list of benefits. Want to learn more? Read the article by clicking the link below!