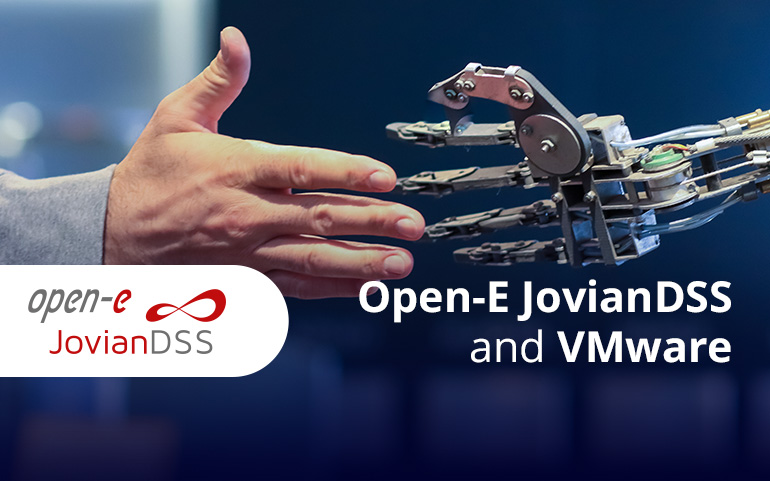 There are a lot of options when it comes to which virtualization platform to choose when building a new system. Do you opt for the free and quick open-source ProxMox? Do you instead opt to go for the mature, safe Microsoft Hyper-V option? Perhaps you need a unified, context-aware user front end that is accessible from all devices as it is with Citrix? 
While all these options have very concrete positives and negatives, there's one that seems to outdo them all, in popularity at least, and that's VMware's vSphere. It's also the most popular form of virtualization when it comes to Open-E JovianDSS. As such, we'll be taking a closer look at why it's so popular and what benefits it can have while utilizing it with Open-E JovianDSS. 
Best Use Scenario
Open-E JovianDSS is the ideal choice when it comes to virtual environments. It supports VMware, Citrix, Microsoft Hyper-V, and ProxMox and can be set up on physical servers or as a virtual storage appliance (e.g. in hyper-converged environments). 
Given that it has all these setup options, we're often asked why so many people choose to use VMware with Open-E JovianDSS. There are a lot of reasons (the main is of course the storage management for hypervisors in general). Still, we think one of the most significant values it adds is the fact that Open-E JovianDSS has built-in backup functionality allowing consistent backups of the hypervisor's virtual machine repository. Open-E JovianDSS backup mechanism is based on snapshots and optionally synchronizes with VMware's mechanism. This is something that's unique to the VMware/Open-E JovianDSS combination of software and cannot, at the moment anyway, be recreated with ProxMox, Citrix, or Hyper-V. 
Pros of Using Open-E JovianDSS with VMware
Besides the ability to create backups, what other upsides are there? Well, for one, both VMware and Open-E JovianDSS have been mutually tested and certified to be compatible, meaning that you have a guarantee that they can work together.
On top of this, the setup is really flexible and provides users with a plethora of choices, features, and options available to meet the vast number of users using the product. This includes the support of offload operations for iSCSI and Fiber Channel with VMware vStorage APIs for Array Integration (VAAI), advanced schedules and retention plans for lower Recovery Point Objective (RPO), and more.
As you probably know, the use of virtualization may slow down your system's performance. However, such a setup can be flexible and efficient anyway. Thanks to being hardware-agnostic, with Open-E JovianDSS you choose from the various pieces of hardware that have been tested and certified to work together and bring out the best efficiency from the virtualized data storage solution. This way, the virtualized system's flexibility may depend not only on the systems' performance (ZFS is very powerful) but also on the hardware components you'd like to combine in your solution. 
Cons of Using Open-E JovianDSS with VMware
So those were the upsides of using Open-E JovianDSS with VMware, but what about the downsides? Well, there is one option possible. However, it's not caused by the Open-E JovianDSS and the hypervisor's connection. As the matter of fact, it is caused by the virtualization itself. 
Given that it's a virtual machine, the speed of the system isn't going to be as fast as if it was all one system. But it's a well-known virtualization disadvantage, not only restricted to the Open-E JovianDSS and VMware setups. This is simply because of the extra layer between the operating system and the virtual machine that the data has to traverse to get to the same point. One extra layer means longer times from point A to point B. Is the minimal performance loss worth all the benefits? (Yes, yes it is, in our opinion).
Closing Thoughts
Having seen the benefits and downsides of using VMware combined with Open-E JovianDSS, is it worth it? Do you prefer another form of virtualization? Which one? Let us know, in the comments below! 
We also have a series about how Open-E JovianDSS works with Windows, Mac, and Linux so if you've found this information insightful, other articles are sure to spark your curiosity!
Leave a Reply