ZFS-based Open-E JovianDSS
Hardware RAID and Open-E JovianDSS - a Good Idea?
We tend to be asked whether it is a good idea to use RAID controllers with the ZFS-based Open-E JovianDSS data storage appliances. Find our statement on this topic in the newest article on the Open-E Blog!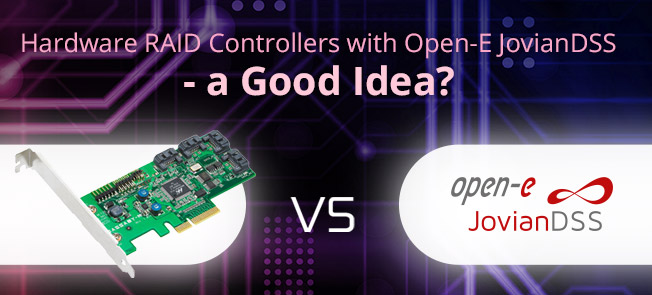 Pros and Cons
Hardware vs. Software RAID
Go to the latest article on our blog, to find recommendations and opinions on using hardware RAID with Open-E software. What exactly will you find in the article?
Open-E JovianDSS Software Z-RAID Advantages & Disadvantages

Hardware RAID Controller Advantages & Disadvantages

Conclusions
So far, we can say that it is not an either/or situation but rather a choice of the system administrator. Click the button below to read the article.