Brand New Certified Hardware
KIOXIA FL6 NVMe™ SSDs powered by Open-E
Today we have some big news! We've added the KIOXIA FL6 NVMe™ SSDs to our extensive list of certified hardware. The new certification has its premiere TODAY, during the world's biggest cloud trade show - CloudFest 2022.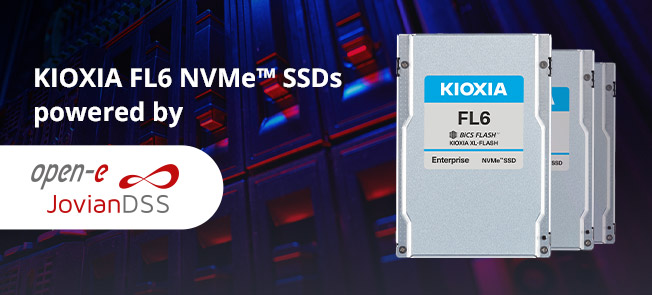 Versatile and Powerful
NVME™ SSDs for Your Data Storage Appliances
After immense testing, we came to the conclusion that the KIOXIA FL6 NVMe™ SSD series is performing outstandingly well with our flagship product, Open-E JovianDSS and the compatibility is guaranteed.
Those multi-purpose drives for tailored data storage setups allow you to benefit from high performance and the reliability of an SSD, whether they are used as a read cache, a write log, or normal data storage drives. All of these extensive usage scenarios - adjustable to your business needs – are just one of many benefits!
Find more information regarding the certified server in the Solution Brief:
For technical details, read the Certification Report >>
If you want to discuss with us this great solution face-to-face, meet us at CloudFest at booth C02 with KIOXIA. See you!