Multi-purpose high-performing NVMe™ SSDs for your data storage appliances.
In this Solution Brief, you can learn about the details of the certification, the testing process, and the results. The testing has proved that this solution provides the following benefits:

High-performance and low latency. The KIOXIA FL6 NVMe™ SSDs help to deliver consistently high IOPS and low latencies.
Multi-purpose drives for tailored data storage setups. You can benefit from using the KIOXIA FL6 NVMe™ SSDs whether they are used as a read cache, a write log, or data drives, adjusting them to your business needs.
RAM competitive SSD solution. The KIOXIA FL6 NVMe™ SSDs address this by providing high-density flash memory at a significantly lower cost to be used as caching devices.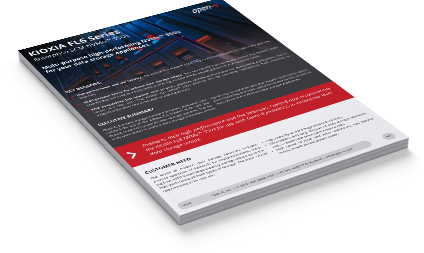 Customer Needs
The world of modern data storage solutions includes a broad spectrum of demands for implementations, starting from HDD-based large capacity storage setups up to the high-performing all-flash types of storage. The most crucial requirements to be met are:
High capacity to store huge amounts of data.
Affordability and long lifespan of data storage elements with a reasonable price-performance ratio.
High speed of read and write operations, low latency levels, as well as less power waste.
Due to that, solution providers are challenged to develop solutions in such a way to meet different requirements for a variety of data storage's real-life business uses. It should guarantee the ability to bring out the best of each storage technology, like scalable and cost-efficient capacity, as well as high endurance and reliability of HDDs, and high performance of SSDs.
Testing Details
The devices were tested in two data storage scenarios - serving as cache devices supporting both write operations (write log) and read operations (read cache) and as data drives in the All-Flash data storage appliance.
For the above-mentioned cases, functional and performance testing was performed for single node configuration and functional testing for High Availability non-shared storage cluster configuration. Detailed descriptions for each of the tests are included in the Certification Report >>
Successful Results
KIOXIA FL6 NVMe™ SSDs, with 60 DWPD endurance and capacities from 800 GB to 3.2 TB, can adjust to a variety of purposes in data storage setups.

After a set of comprehensive tests, it is indicated that the KIOXIA FL6 NVMe™ SSDs are universal and can be implemented in a multitude of setups. Open-E recommends KIOXIA FL6 NVMe™ SSDs to clients for their data and cache devices. Thanks to the combination of performance, low latency, and high endurance, they effectively support customers' common workloads, including databases, virtualization, online transaction processing, and virtual infrastructure.

"With FL6, KIOXIA has released a flash-based storageclass memory SSD with PCIe Gen 4 Interface, which is cost-effectively bridging the gap between DRAM and TLC-based SSDs. We are happy that Open-E as a trusted supplier for Software-Defined Storage systems and as an Expert in Storage Tiering has tested and certified FL6 under the latest Open-E JovianDSS version. We trust that customers will appreciate FL6 superiority within Storage Class Memory products and the benefits FL6 is offering to Server and Storage Systems."

Frederik Haak, Senior Manager – SSD Marketing and Engineering at KIOXIA Europe GmbH
Conclusion
KIOXIA FL6 NVMe™ SSDs, with 60 DWPD endurance and capacities from 800 GB to 3.2 TB, can adjust to a variety of purposes in data storage setups. Thanks to their speed and capacity, they will display their outstanding performance as read and write caching devices for HDDs, as well as data drives for all-flash storage solutions. After a set of comprehensive tests, it is indicated that KIOXIA FL6 NVMe™ SSDs are universal and can be implemented in a multitude of setups. Open-E recommends KIOXIA FL6 NVMe™ SSDs to clients for their data and cache devices. Thanks to the combination of performance, low latency, and high endurance, they effectively support customers' common workloads, including databases, virtualization, online transaction processing, and virtual infrastructure. Read the summary of the project in the Press Release >>