Get your ticket
Open-E at CloudFest 2019 in Germany
-
Open-E is counting days till CloudFest 2019! Learn how to grow your business at the renowned industry event that gathers decision-makers from all over the world sharing their innovations, experiences and insights to their success. Join us on March 26 - 28, 2019!
-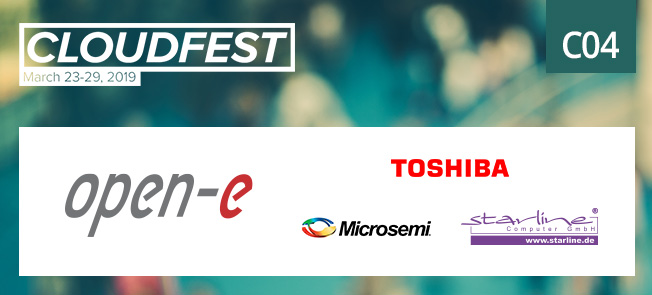 -
Contact Open-E via email
Meet our specialists at cloud.FAIR booth C04
-
Latest innovations in Cloud and Internet technology, top experts from around the world - these are only some of the benefits of the CloudFest fair. Boost your cloud and hosting business and set up a meeting with us to get more out of your storage experiences. Open-E will be an exhibitor with esteemed Partners Toshiba Electronics Europe, Starline and Microsemi at cloud.FAIR booth C04.
-
Request a meeting with Open-E's experts today and get your free ticket to the show by sending us a quick e-mail.
-

-
-
If you already have your ticket, add booth C04 to your list of exhibitors to visit at the cloud.FAIR as we will present the Enterprise-grade features of our ZFS-based Open-E JovianDSS software.
-
Some of Open-E's partners will be joining the show floor as well, don't forget to stop by:
---
Find all information about CloudFest 2019 complete with the agenda and travel information here >>